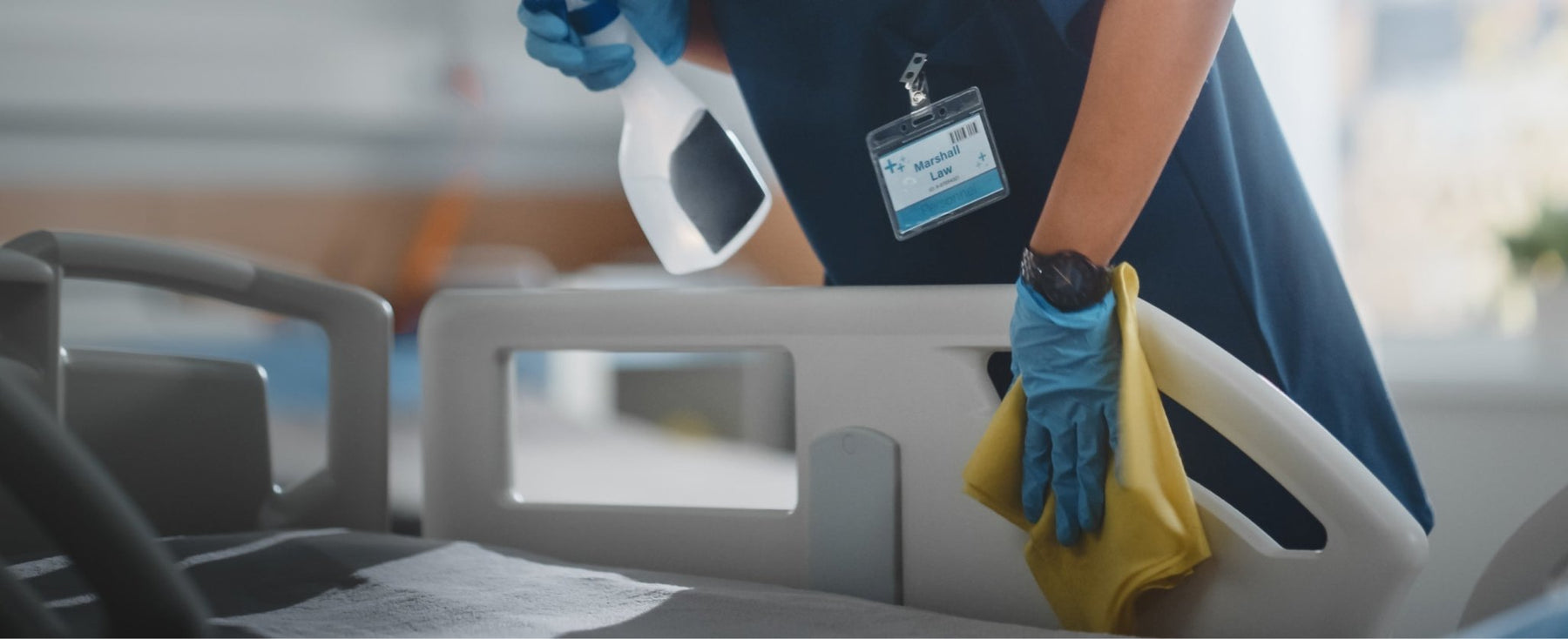 Hospital Housekeeping Staff Structure Information
Hospitals need well-structured, diligent housekeeping teams dedicated to creating a clean and sterile environment for patients. 
Whether you're a healthcare professional aiming to refine your operations or a provider of cleaning services to the healthcare sector, this article offers valuable insights into the staff structure of hospital housekeeping.
Director of Environmental Services:
This is the person who oversees the entire housekeeping department. They are responsible for budgeting, policy-making, staff training and development, implementing standard operating procedures, and ensuring compliance with healthcare sanitation standards. 
As the head of the department, all other senior housekeeping staff report to them:
Environmental Services or Housekeeping Manager
They directly report to the Director and assist in managing the entire department, stepping in when the Director is unavailable. In most settings, the manager will handle the day-to-day running of the department while the director handles long-term strategy and liaises with other senior department staff.
Training and Compliance Officers
If a hospital has dedicated training and compliance personnel in the Environmental Services department, they would typically report to the Director, ensuring that all staff are adequately trained and that cleaning protocols adhere to health regulations.
Inventory or Supply Clerks
Those in charge of managing cleaning supplies, equipment, and inventory will usually report to the Director or their designated manager, ensuring that supplies are always stocked and available as needed.
Waste Management Supervisors
If a hospital has a dedicated waste management department, this role may report to the Director of Environmental Services, ensuring that medical waste is safely and appropriately disposed of.
Housekeeping Supervisors
They manage teams of housekeepers and specialist cleaners, coordinating daily cleaning tasks and ensuring cleaning standards are maintained. Technicians, laundry assistants and janitors will report directly to a supervisor.
Environmental Service Technicians
These staff members are the backbone of hospital housekeeping departments and carry out the day-to-day cleaning tasks. They are essential to maintaining the cleanliness and hygiene of the hospital. Their responsibilities include using appropriate cleaning materials to clean patient rooms, restrooms, public areas, disposing of waste, and may also include laundry tasks in some settings.
Specialist Cleaning Jobs:
In larger facilities, there may be specialist cleaners who handle more sensitive areas like operating rooms, intensive care units, or areas requiring deep cleaning and disinfection.
Operating Room Cleaning: Operating rooms require an extremely high level of sterilisation. Cleaning staff working in this area must adhere to strict guidelines to prevent infection. Tasks typically include washing surfaces, sterilising equipment, and ensuring waste is safely disposed of.
Infection Control Cleaning: These staff members specialise in areas of the hospital where patients are particularly susceptible to infections, such as Intensive Care Units or neonatal units. They must have a thorough understanding of disinfection methods and use specific products to eliminate harmful bacteria and viruses.
Isolation Room Cleaning: These cleaning staff are trained to clean rooms that house patients with contagious diseases. They are trained in techniques and protocols designed to prevent the spread of disease, such as the proper use of personal protective equipment and specific cleaning methods.
Biohazard Cleaning: Staff working in healthcare will often be trained to handle and dispose of biohazardous waste safely. This includes bodily fluids and other medical waste materials that pose a risk of infection.
Equipment Sterilisation Technicians: Also known as Sterile Processing Technicians, these professionals are responsible for cleaning, sterilising, and storing medical equipment and instruments. They must follow stringent sterilisation practices and often work closely with surgical teams.
Floor Technicians: These staff members keep all floor surfaces clean and free from bacteria.
Laundry Assistants
Laundry Assistants maintain the cleanliness of linens and uniforms in the hotel. They use detergents to clean and specialist washing materials to sterilise all soiled linen so it is safe to be used again. Their work helps prevent the spread of infection and ensures that patients are comfortable.
Janitors
Janitors or 'Custodians' are general cleaning staff who handle basic housekeeping tasks like vacuuming, mopping, emptying bins and refilling handwash stations. 
Healthcare Centres and Clinics May Have Different Staff Structures
Staff structures will change depending on the size and function of a facility. For instance, a large hospital will have the need for larger housekeeping teams and potentially specialised cleaners. However, small clinics may only need a few cleaners and will fold several roles into one.
Explore Our Products
Unilever Professional are dedicated to helping your staff deliver the perfect clean every time. Our hospital cleaning materials are specially formulated to sterilise surfaces and eliminate harmful bacteria.