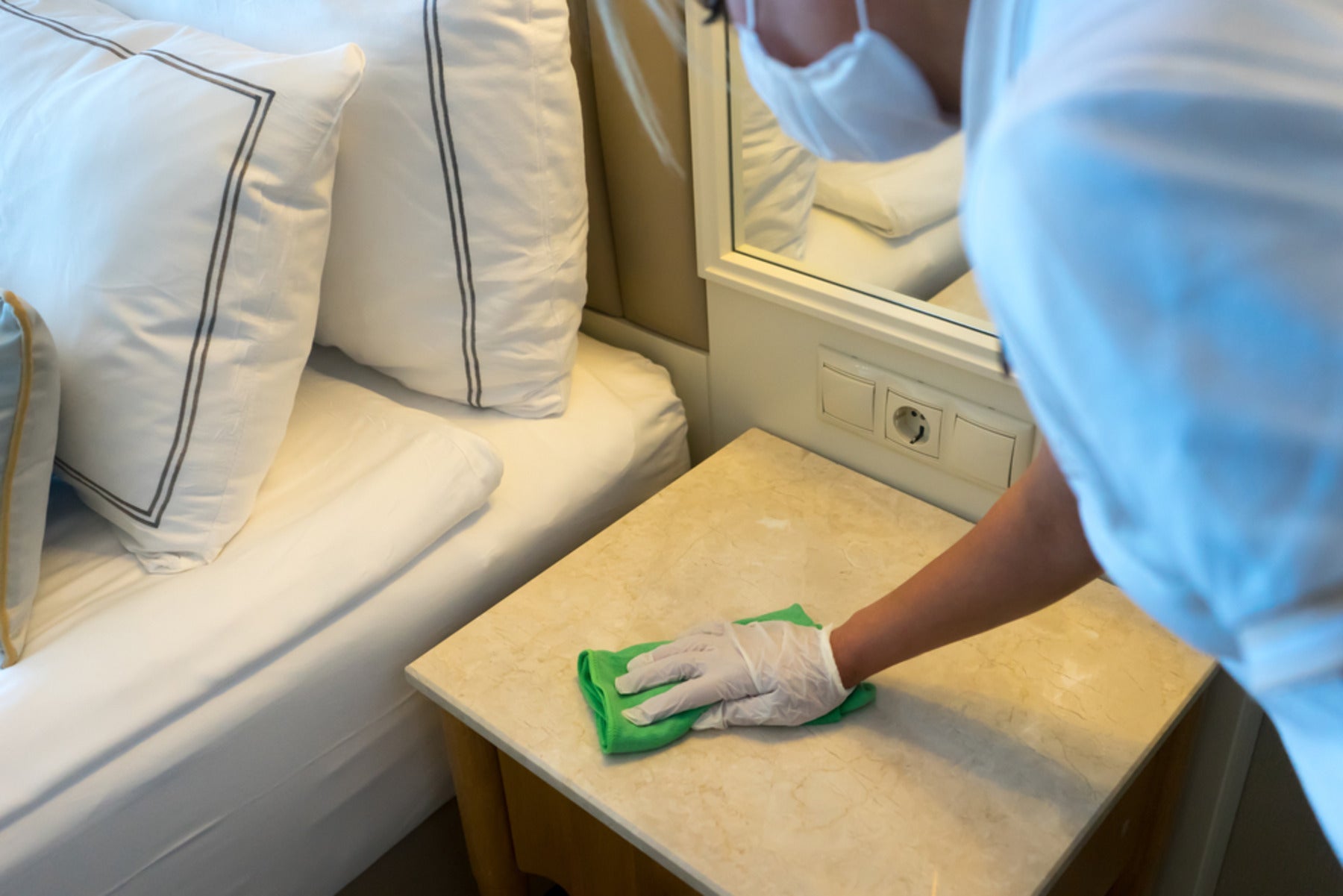 Hotel Room Cleaning Checklist for an Upgraded Guest Experience
Precision, consistency, excellence - these are the hallmarks of exceptional hotel housekeeping. 
However, achieving these standards consistently in a high-pressure work environment is challenging. 
A well-structured checklist ensures that housekeepers carry out every task correctly and to the exacting standards set out by their hotel.
From changing the bedsheets to replenishing toiletries, a comprehensive checklist ensures no task is forgotten. For housekeeping and hotel management professionals, this guide is an indispensable tool in delivering an unparalleled guest experience.
Note: The following are examples, not an exhaustive list, of what tasks housekeepers must carry out when cleaning hotel rooms.
Daily Sleeping Area Tasks
Ensure that all trash bins are emptied and sanitised. Replace emptied bins with fresh liners.
Remove used sheets, pillowcases, and other bed linens. Replace with fresh, crisply folded items.
Once the linens have been changed, make the bed per the hotel procedure.
Dust all surfaces, including nightstands, dressers, and headboards, to remove dirt and allergens.
Thoroughly vacuum carpets, paying attention to edges and corners. This helps in maintaining a clean appearance and removing any hidden debris.
Clean Windows and Mirrors
Wipe down all glass surfaces using appropriate cleaning agents. This includes windows and mirrors, promoting a bright and clear appearance.
Disinfect Remote Controls and Light Switches
Carefully wipe and sanitise remote controls, light switches, and other high-touch areas using a disinfectant cleaner.
Refresh Decorative Elements
Inspect and rearrange any decorative pillows, artwork, or other design features where applicable.
Refill any complimentary items such as water bottles, tea, and coffee. 
Refill or spray air fresheners where applicable.
Place Information Materials
Ensure all necessary information, such as room service menus or emergency procedures, is neatly placed and easily accessible for guests.
Daily Bathroom Tasks
Thoroughly scrub and sanitise the toilet, using a disinfectant toilet bowl cleaner, to ensure all surfaces are germ-free and gleaming. Where applicable, clean the bidet using appropriate cleaning agents.
Wash Basins and Countertops
Wipe down sinks, faucets, and countertops with suitable cleaning solutions, removing any stains for a polished appearance.
Clean the shower area and tub using specialised cleaning agents, paying attention to grout lines and drain covers.
Disinfect High-Touch Areas
Sanitise handles, knobs, and other high-touch surfaces to minimise germ transmission.
Clean Mirrors and Glass Surfaces
Use specialised glass cleaners on mirrors and other glass surfaces, ensuring clear and spotless reflections.
Replace Towels and Bathmats
Replace used towels and bathmats with fresh items.
Empty and Clean Trash Bins
Empty and sanitise the bathroom trash bin, replacing the liner with a fresh one.
Refill essential amenities such as shampoo, conditioner, body wash, and lotion.
Other Areas
Daily Balcony Tasks
Remove debris and stains by sweeping and mopping the floor.
Wipe railings and glass barriers with suitable cleaning agents.
Check and clean any outdoor furniture.
If applicable, water and groom any potted plants or flowers.
Daily Living Area Tasks
Dust and wipe all furniture, shelves, and decorative items.
Vacuum Carpets and Upholstery
Thoroughly vacuum carpets and clean upholstery to remove dirt and keep fabrics fresh.
Clean and Organise Workspace
Where applicable, clean and organise any desk areas, being careful not to disturb any documents/possessions the guest may have.
Daily Kitchen Tasks
Wipe down all kitchen appliances, such as microwaves, coffee makers, and refrigerators.
Clean all dishes, utensils, and cooking tools using dishwash. 
Refill items like coffee pods, tea bags, sugar, and other essential kitchen supplies, according to the hotel's offerings.
Empty and Clean Trash Bins
Ensure trash bins are emptied, cleaned, and lined with fresh bags.
Turn Over Tasks
Start with a detailed assessment of the room's overall condition, identifying any damages or maintenance needs to be addressed promptly.
This involves thoroughly cleaning all areas, including vacuuming carpets, mopping floors, wiping down all surfaces, and sanitising bathroom fixtures. Refer to the daily cleaning checklists for what tasks need to be completed.
Restock all amenities like toiletries, coffee or tea supplies, and other complimentary items the hotel offers.
Checking and Cleaning Appliances
Inspect and clean all in-room appliances (TVs, phones, air conditioners, minibars etc.), confirming they are in proper working order.
Furniture and Upholstery Inspection
Check and clean all furniture and upholstery for stains or damages, applying specific treatments if necessary.
Use deodorisers or air fresheners to ensure the room smells fresh and clean.
Conduct a final walk-through, following the hotel's quality checklist to ensure that every aspect of the room meets the standard of excellence.
Document the completion of the turnover process, noting any issues or special attention needed for future reference. Communication with the front desk or management ensures that the room is marked ready for occupancy.