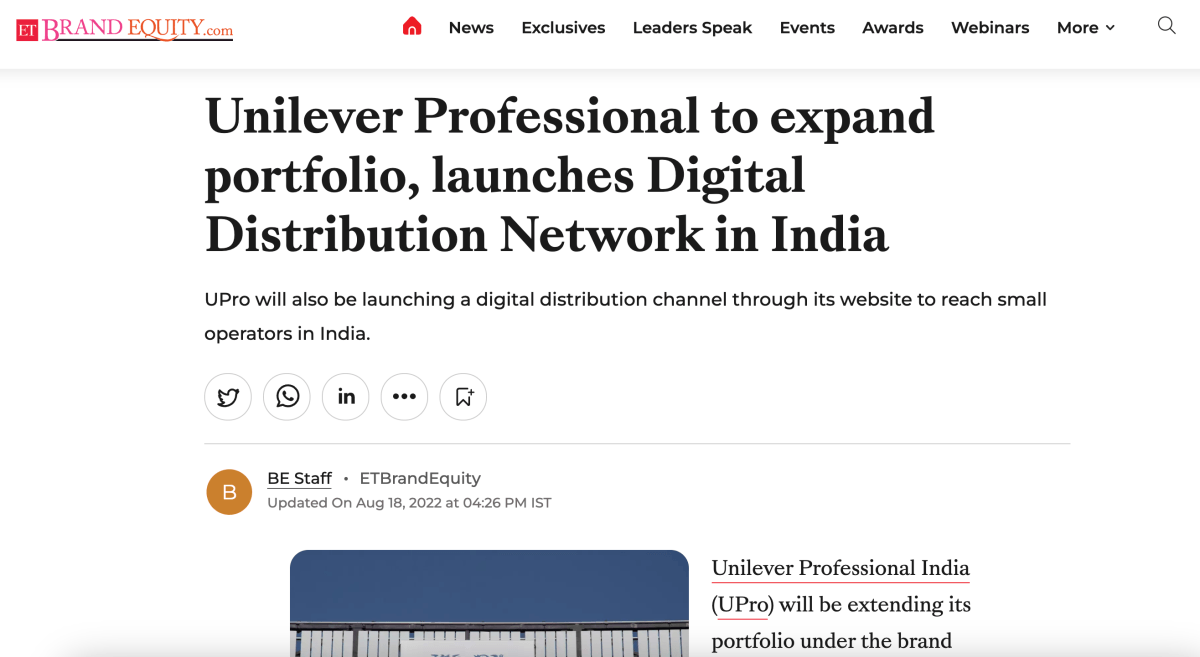 Unilever Professional Featured in The Economic Times of India
Unilever Professional India (UPro) is thrilled to have been featured recently in the Economic Times of India when we announced that we will be expanding our product portfolio. 
The products, which include glass cleaners, air fresheners, degreasers, and kitchen hygiene products like dishwasher chemicals, food contact safe surface sanitizers, kitchen sanitizers, laundry care detergent, and fabric conditioners, are designed to provide maximum performance at an affordable price.
In the article, we shared that our primary goal is to address the daily cleaning needs of experts in the food services, hospitality, laundrettes, offices, and schools industries. The article mentions how we plans to tap into these sectors by launching a digital distribution channel through its website, which will help small operators in India to access its range of cleaning products.
As a trusted provider of cleaning and hygiene products, we understand the importance of accessibility and ensuring that product instructions are clearly communicated. To that end, we will ensure that its products come with easy-to-follow instructions that are communicated on the product packs.
With a range of locally manufactured products and leveraging Unilever's expertise, UPro aims to provide small and medium-sized operators with high-quality, trusted, and affordable cleaning products that create a safe and hygienic environment for guests. In addition, UPro promises to make professional cleaning chemicals accessible to all by providing digital manuals for professional usage across geographies.
At UPro, we are committed to making a difference in the professional cleaning industry, and we believe that our expanded product portfolio and digital distribution channel will help us to achieve our goal. We invite you to learn more about our product range by visiting our website and browsing through our selection of cleaning and hygiene products. Thank you for choosing Unilever Professional India as your partner in maintaining clean and hygienic facilities.