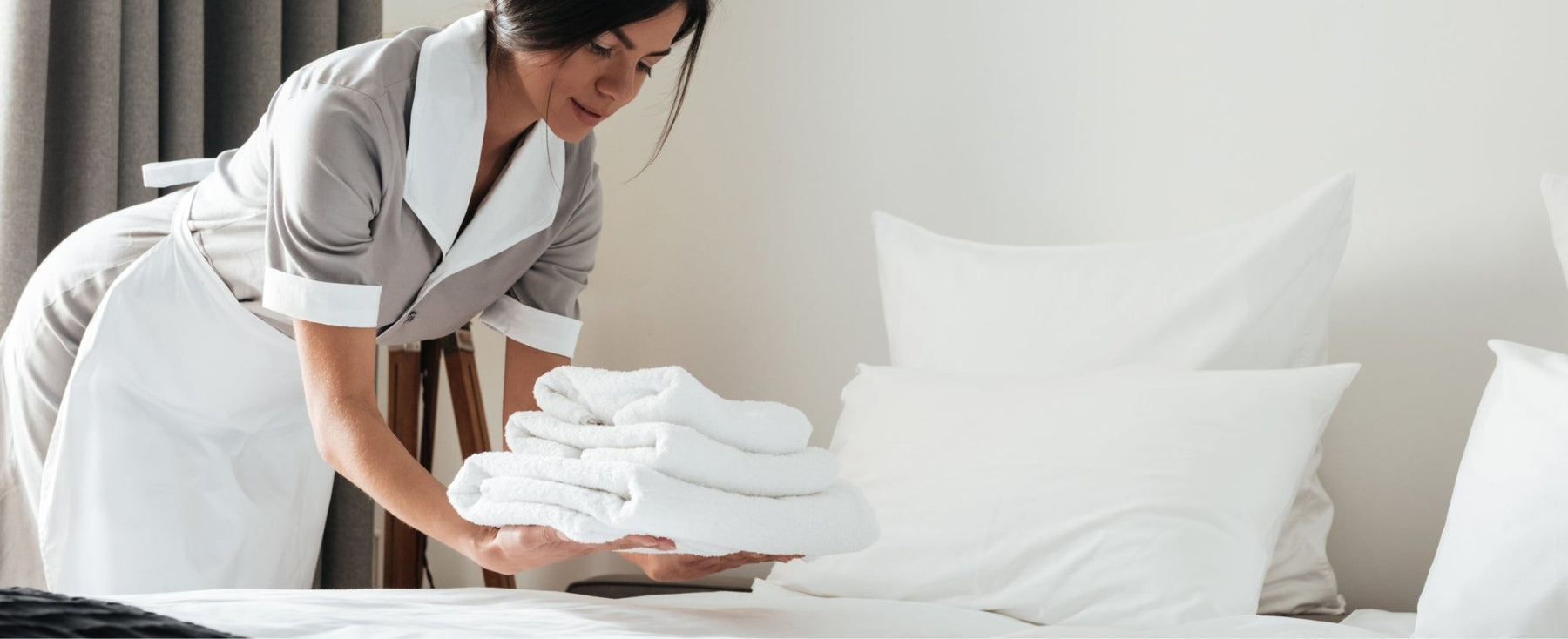 Decoding the Jargon: A Hotel Housekeeping Glossary
Cleaning jobs, health and safety, roles within housekeeping, KPIs - there's a lot to keep track of in hotel housekeeping.
At Unilever Professional, we know how important it is for you to understand the terminology used in your working environment. This guide is a collection of all the important definitions and terms you're likely to encounter when providing housekeeping in a hotel, guest house or AirBNB.
Housekeeping Roles and Job Titles
Housekeeping Manager: This individual oversees all operations of the housekeeping department. They are responsible for ensuring cleanliness standards are met, and coordinate with other departments, manage inventory, handle guest complaints related to cleanliness, and ensure the safety of their team.
Assistant Housekeeping Manager: They assist the Housekeeping Manager in their duties. This can include scheduling, training new team members, and stepping in to manage when the Housekeeping Manager is unavailable.
Floor Supervisor: Also known as the Room Inspector, this role involves inspecting rooms to ensure they meet the hotel's standards of cleanliness and are ready for guests to occupy. They also provide feedback to room attendants and report any maintenance issues to the maintenance department.
Room Attendant: Sometimes referred to as maids or housekeepers, room attendants are the backbone of the housekeeping department. They clean and tidy guest rooms, restock amenities, and report any maintenance issues.
Public Area Attendant: This role is responsible for maintaining the cleanliness of all public areas within the hotel, such as the lobby, hallways, restaurants, and restrooms.
Linen Attendant: The Linen Attendant manages all the hotel's linens, which includes washing, ironing, folding, and distributing to room attendants. They also keep track of linen inventory.
Laundry Supervisor: Oversees the laundry department and ensures that all linens, towels, uniforms and other linens are cleaned, folded, and delivered where they need to be. They ensure the smooth running of all laundry operations.
Housemen or Housekeeping Aide: Their responsibilities can include assisting room attendants by removing trash and dirty linens from guest rooms and supplying them with clean linens. They also may help with deep cleaning tasks or moving furniture.
Turndown Attendant: This role is usually present in high-end hotels. Turndown Attendants prepare guest rooms for the evening by doing things like closing the curtains, turning down the bed linens, and sometimes providing a small gift or treat.
Cleaning Standards and Techniques:
Abrasive Cleaning: The use of abrasive materials to scrub and clean hard surfaces.
Acidic/Alkaline Cleaning: Using acid or base cleaners depending on the nature of the stain or dirt.
Anti-Bacterial Cleaning: Using cleaning agents that are designed to kill bacteria.
Bio-Enzymatic Cleaners: Cleaning agents that use "good" bacteria (non-pathogenic) to clean contaminants from a surface. 
Chemical Cleaning: The use of chemical agents to clean surfaces. Different cleaning chemical agents are used depending on the surface or type of stain.
Cross-Contamination Prevention: Techniques used to prevent the spread of bacteria and pathogens from one area to another.
Deep Cleaning: Thorough and detailed cleaning process where every part of the room is cleaned - not just a quick surface clean.
Dishwashing: Using dishwash liquid to clean dishes, cutlery and cookware. 
Dry Cleaning: Techniques where water isn't used, such as for certain types of upholstery or drapes.
Dwell Time: The amount of time a cleanser needs to sit on a surface to effectively remove dirt or disinfect.
Eco-Friendly Cleaning: Utilizing cleaning agents and practices that are safe for the environment.
Glass Cleaning: Using specialized glass cleaner on glass and mirrored surfaces, so they can be cleaned without being damaged. 
Green Cleaning: Similar to eco-friendly cleaning; often involves the use of products that meet certain environmental safety standards.
High-Touch Cleaning: Focusing on areas that are frequently touched, such as doorknobs, light switches, and remote controls.
Hot Water Extraction: Often used for deep-cleaning carpets. Distinct from regular steam cleaning; steam cleaning uses boiling water and cleans with the generated steam, while hot water extraction uses slightly colder water to deliver a deeper clean through the carpet.
Microfiber Cleaning: Utilizing microfiber cloths, which can capture more dust and dirt than traditional cloths.
Neutral Cleaning: Using a cleaner with a neutral pH (between 6 and 8) to prevent damage to surfaces.
Personal Protective Equipment (PPE): Gear worn to reduce exposure to hazards that cause serious workplace injuries and illnesses.
Sanitization: Process to remove and prevent the growth of bacteria, viruses and fungi.
Spot Cleaning: The process of cleaning a stain or spot from a small, localized area.
Steam Cleaning: Using heated water vapor for cleaning and disinfecting.
Toilet Cleaning: Using specialized toilet cleaner that can cut through the tough dirt and stains that collect in hotel toilets. 
Touch Point Cleaning: Cleaning of specific areas and items that are frequently touched.
Water-Saving Measures: Techniques designed to reduce the amount of water used in cleaning processes.
Housekeeping Operations:
Amenities: These are items provided for guests' convenience, such as shampoo, soap, hairdryer and toothpaste.
Anti-Allergenic Cleaning: Special cleaning procedures to minimize allergens in rooms.
Automatic Dispenser: A device for dispensing soap, sanitizer, or other liquid products automatically or with minimal physical contact.
Bed Bugs: Small, elusive, and parasitic insects that live in the hidden corners of beds. Proper cleaning and maintenance are crucial to prevent and control these pests.
Black Light Inspection: The use of ultraviolet light to detect organic matter or pests not visible to the naked eye.
Checklist: A tool used by housekeeping staff to ensure all tasks are completed.
Deep Cleaning: A thorough cleaning process that targets hard-to-reach areas and built-up grime.
Do Not Disturb: A sign placed on the door handle by guests who wish not to be disturbed.
En Suite: A term often used to describe a bedroom with a connected private bathroom.
Extra Bedding: Additional blankets, pillows, or bedsheets provided upon guest request.
Guest Supplies: Items provided for the use of guests such as towels, bed linens, toiletries, and tea/coffee facilities.
Housekeeping Station: A centralized area or room where housekeeping staff collect cleaning supplies.
In-Room Safe: A small safe provided in guest rooms for secure storage of valuables.
Linen Chute: A vertical passage in hotels for dirty laundry to be dropped to a lower floor for cleaning.
Mini-Bar: A small, private snack and beverage center usually found in hotel rooms.
Pillow Menu: A selection of different types of pillows offered to guests to enhance their comfort.
Room Recovery: The process of deep cleaning and airing a room after an incident like smoke damage or a sickness has occurred.
Room Status: The housekeeping department's classification system to know what state the room is in, such as vacant, occupied, dirty, or clean.
Sanitation: Procedures to maintain cleanliness and prevent disease, involving both cleaning (removing dirt and residues) and disinfecting (killing germs).
Service Cart: A cart stocked with supplies, cleaning tools, and guest amenities used by room attendants.
Turndown Service: A luxury service provided by housekeeping that involves preparing the guest room for evening activities or bedtime.
Z-Bed: A bed provided in hotel rooms for accommodating an extra person, usually in the form of a foldable temporary bed.
Hotel Operations:
Back of House: The areas of a hotel not open to guests, where operations like laundry, food preparation, and administration occur.
Bell Cart: A wheeled cart used by bellmen to transport guests' luggage.
Cancellation Policy: The terms under which a guest can cancel their booking.
Check-In/Check-Out: The process of guests arriving (check-in) and leaving (check-out) the hotel.
Concierge: A hotel employee who assists guests with various tasks like making restaurant reservations, arranging spa services and recommending local attractions.
Continental Breakfast: A light morning meal typically consisting of pastries and baked goods, fruits, and coffee.
Front Desk: The main reception area where guests are greeted, check in and out, and can get information.
Front of House: The areas of a hotel that guests frequent, such as the lobby, dining area, and guest rooms.
Guest History: A record of each guest's previous stays, preferences, complaints, or compliments, used to personalize their service.
Guest Relations: Interactions between hotel staff and guests, aiming to provide excellent service and resolve any issues.
Hospitality: The act of providing a welcoming and caring environment for guests.
In-House Guest: A guest who has already checked in to the hotel.
Key Card: A plastic card which provides access to a guest's room.
Late Check-Out: Allowing guests to check out later than the standard time.
Occupancy Rate: The percentage of occupied rooms in a hotel over a specific period.
Overbooking: Accepting more reservations than available rooms, anticipating cancellations and no-shows.
Room Service: A service offered by the hotel where guests can order food and drinks to be delivered to their room.
Valet Service: A service where hotel staff park guests' vehicles.
Walk-In: A guest who arrives without a reservation.
Yield Management: A pricing strategy that involves adjusting prices based on predicted demand.
Housekeeping Management:
Biohazard Waste: Any waste containing infectious materials or potentially infectious substances such as blood. Proper disposal of such waste is crucial in a hotel setting.
Departmental Budget: The budget allocated to the housekeeping department for its operations.
Floor Supervisor: A member of the housekeeping staff responsible for supervising room attendants and inspecting guest rooms.
Housekeeping Control Desk: The hub of communication for the housekeeping department.
Housekeeping Information System: A technology system that helps manage housekeeping operations, such as tracking room statuses and assignments.
Inventory: The supply of items like towels, sheets, and cleaning supplies that the housekeeping department maintains.
Laundry Operations: The processes involved in the washing, drying, and folding of a hotel's linens and guest laundry.
Lost and Found: The hotel's system for managing items left behind by guests.
Out-of-Order (OOO) Rooms: Rooms that are not available for booking due to maintenance issues.
Periodic Automatic Replacement (PAR) Level: The quantity of linens and amenities needed to meet daily housekeeping needs until the next scheduled delivery. The PAR level changes depending on the season, holiday or even day of the week.
Preventive Maintenance: Regularly scheduled maintenance to prevent breakdown and ensure smooth operations.
Public Area: Any area in the hotel accessible to all guests, like lobbies, restaurants, and restrooms.
Quality Control: The processes to ensure that the hotel's cleanliness and maintenance meet set standards.
Room Inspection: The process by which a supervisor checks a room to ensure it meets the hotel's cleanliness and maintenance standards.
Room Occupancy Report: A report generated by the front office listing the guest rooms occupied on a particular night.
Shift Duties: The different tasks assigned to housekeeping staff based on their work shift.
Standard Operating Procedure (SOP): The set of step-by-step instructions to help housekeeping staff carry out tasks. Hotels should have an SOP for every task its housekeepers are expected to complete.
Vendor Relations: The relationships between the hotel and its suppliers, usually backed by contracts.
Health and Safety in Housekeeping:
Bloodborne Pathogens: Microorganisms in human blood which can cause diseases. Housekeepers must be trained in handling situations where they might be exposed to such pathogens, particularly when cleaning up biohazardous waste.
Chemical Safety: Safe handling, storage, and disposal of cleaning chemicals to prevent harmful exposures or accidents.
Ergonomics: The study and design of workspaces so that they fit the people who use them, aiming to reduce the risk of injury, particularly back injury and repetitive strain injuries in housekeeping tasks.
Fire Safety: Knowledge and practices related to preventing fires and evacuating the building safely in case of a fire.
First Aid: The immediate care given to a person who has been injured or suddenly becomes ill, including first aid kit management and training.
Hazard Communication: A system of communicating information about the hazards in the workplace, including those related to cleaning chemicals, typically through Safety Data Sheets (SDS).
Personal Protective Equipment (PPE): Safety gear that workers wear or use to prevent injuries at work; can include gloves, aprons, masks, and eye protection.
Risk Assessment: The process of identifying potential hazards in the workplace, evaluating the risks associated with them, and determining suitable control measures.
Slip, Trip and Fall Prevention: Measures taken to prevent accidents caused by slips, trips, and falls, some of the most common accidents in hotel housekeeping.
Sustainability in Housekeeping
Biodegradable Products: Cleaning supplies and guest amenities that can be decomposed by bacteria or other living organisms, reducing waste and potential harm to the environment.
Carbon Footprint: A measure of the impact human activities have on the environment in terms of the amount of greenhouse gases produced. In housekeeping, this might relate to the choice of cleaning products or the use of energy.
Ecolabels: Voluntary marks awarded to hospitality businesses that meet specific environmental standards. For housekeeping, this may influence the choice of laundry detergents, cleaning products, and even bed linens.
Energy Efficiency: Practices aimed at reducing energy consumption, such as using energy-efficient appliances and encouraging guests to turn off lights and air conditioning when not in use.
Green Cleaning Products: Cleaning products that are made from ingredients designed to have a minimal impact on the environment and human health.
Recycling: The process of collecting and processing materials (like bottles, paper, and cans) that would otherwise be thrown away as trash and turning them into new products. Housekeeping roles might involve facilitating guest recycling.
Sustainable Procurement: The process of purchasing goods and services that have minimal environmental impacts, uphold social standards (such as fair trade), and offer economic benefits (like cost savings).
Waste Management: Practices related to reducing, handling, and disposing of waste. This could include reducing single-use items, recycling programs, and managing hazardous waste safely.
Water Conservation: Measures taken to reduce water usage, such as installing low-flow showerheads and toilets, and encouraging guests to reuse towels.
Zero-Waste Policy: An aim or policy to eliminate waste sent to landfills through practices like reducing, reusing, and recycling.
Technology in Housekeeping:
Artificial Intelligence (AI): Advanced systems that leverage machine learning to improve housekeeping operations, including predictive cleaning schedules and automated inventory management.
Electronic Key Cards: Cards embedded with a magnetic strip or a chip that hold encoded information allowing guests access to their rooms. They can also provide data to the housekeeping department about guest entries and exits.
Guest Request Management Systems: Software that tracks and manages guest requests and complaints, helping housekeeping to respond quickly and efficiently.
Housekeeping Management Software: A digital platform that allows for tracking and management of housekeeping tasks, staff scheduling, and room status, thereby improving efficiency and communication.
Internet of Things (IoT) Devices: Devices like smart thermostats or smart lighting systems in guest rooms that can be controlled to save energy and enhance guest comfort.
Mobile Apps for Housekeeping: Smartphone applications that provide housekeeping staff with real-time information about room status, inventory needs, and guest requests, improving responsiveness and efficiency.
Property Management System (PMS): A software platform that integrates various hotel operations, including reservation, check-in/check-out, room assignment, and billing, often with modules or integration for housekeeping management.
Radio-Frequency Identification (RFID) Technology: Technology used to track items through embedded tags, improving inventory control and reducing loss.
Robotics: Use of automated machines to assist with or perform housekeeping tasks, such as robotic vacuum cleaners or delivery robots, to improve efficiency and reduce repetitive tasks for staff.
Smart Rooms: Guest rooms equipped with smart devices and systems (part of the IoT) to enhance the guest experience and improve energy efficiency. Housekeeping may interact with these systems for room readiness checks and settings.
Housekeeping Metrics and Key Performance Indicators (KPIs):
Cost per Occupied Room (CPOR): A measure of the cost of maintaining a hotel against the number of occupied rooms over a given period. This includes laundry, amenities, cleaning supplies, and labour costs.
Guest Satisfaction Scores: These scores, often gathered from post-stay surveys or online reviews, provide insight into guest perception of the cleanliness and comfort of their rooms.
Inspection Score: This measure is based on room inspections conducted by housekeeping supervisors or managers. They assess the cleanliness and readiness of rooms against the hotel's standard checklist.
Inventory Turnover: The rate at which inventory is used and replaced within a specific time period. High turnover may indicate effective use of inventory, but extremely high turnover could suggest waste.
Room Occupancy Rate: The ratio of occupied rooms to the total number of available rooms. It provides insight into how frequently housekeeping services are required.
Room Readiness Time: The time taken from when a guest checks out of a room to when the room is ready for the next guest. This measures the efficiency of the cleaning process.
Time to Clean a Room: A measure of how long it takes for housekeeping staff to clean a room, usually calculated as an average over a period of time.
Explore Our Products
Unilever Professional are here to support your hotel housekeeping team. Ensure a perfect clean every time with our catalog of essential bundles.