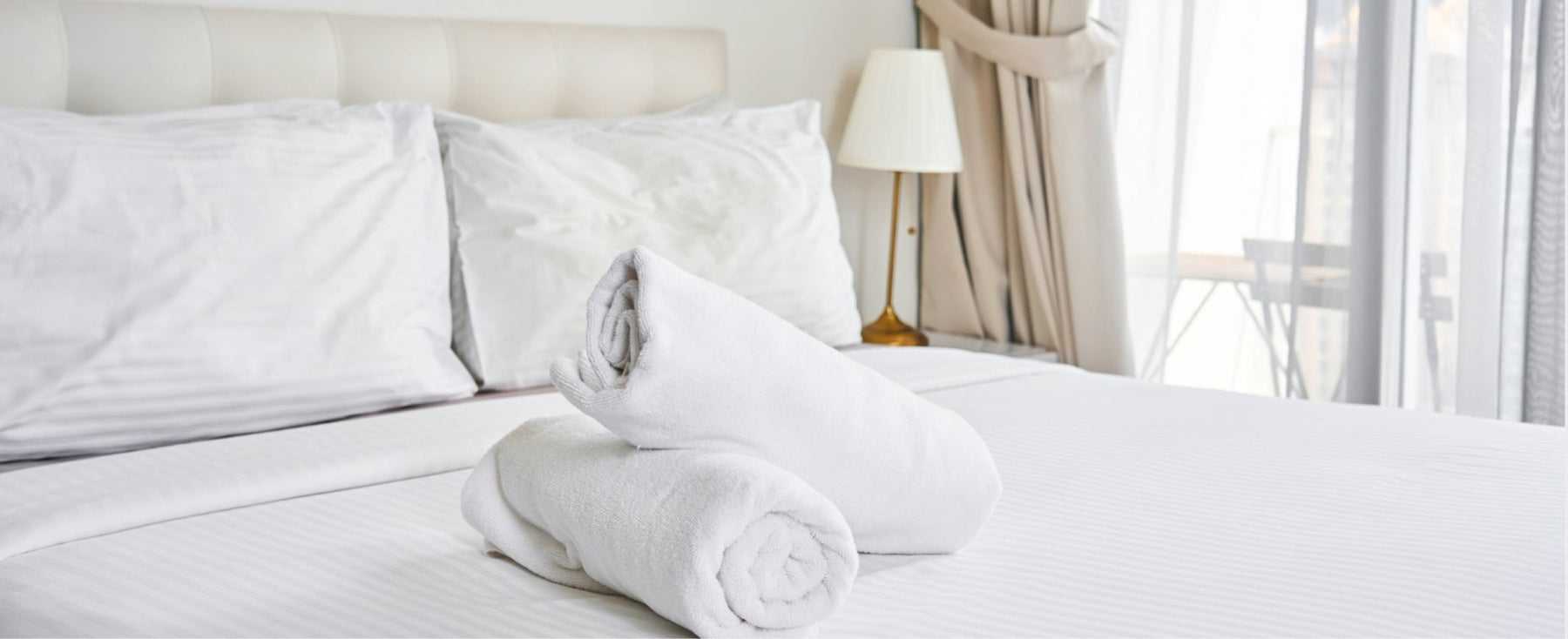 The Vital Role of Housekeeping in Hotel Success
A dirty room can ruin your guest's experience.
From gleaming lobby floors to impeccably arranged guest rooms, the housekeeping team ensures every corner of a hotel is well-maintained and inviting. Their tireless efforts contribute to the aesthetic appeal and the health and safety of guests and staff. 
Housekeeping is an integral part of hotel operations. We've delved into these workers' critical roles in a successful hotel.
Housekeeping in a Hotel Setting
The hotel housekeeping department maintains the hotel's cleanliness, aesthetics, and guest comfort. This includes:
Cleaning guest rooms

Refilling room amenities

Cleaning public and service areas

Managing waste disposal

Deep cleaning projects
This isn't an exhaustive list - housekeepers' responsibilities will change depending on the size of the hotel. They are trained in using cleaning chemicals and disinfectants, ensuring every surface is thoroughly cleaned and sanitised. 
While maintaining cleanliness is the primary role of any housekeeping team, in a hotel, their work is also vital in creating a memorable guest experience. 
Why is Housekeeping Important: The Key Reasons
Infection Control
In a post-COVID world, diligent housekeeping is crucial in controlling and preventing the spread of infections. Their work helps maintain high hygiene standards throughout the hotel, from guest rooms to public areas like lobbies, restaurants, and gyms. 
This rigorous attention to cleanliness is vital in mitigating health risks and ensuring a safe environment for guests and staff.
Guest Satisfaction
Cleanliness and comfort are big factors in determining whether guests enjoy their stay - and whether they'll return.
A well-maintained room, a comfortable bed with clean linen and a spotless bathroom all make guests feel valued and well-cared for. High standards of cleanliness enhance the guest experience and satisfaction levels, encouraging repeat visits and positive reviews.
Brand Image and Reputation
The hotel's condition is seen as a reflection of its overall brand image. High-quality and consistent housekeeping services signal attention to detail, professionalism, and a commitment to excellence - all of which enhance the hotel's reputation. 
On the other hand, a single negative experience related to cleanliness can damage the hotel's image. Guests form their opinions based on the service they receive and the cleanliness of the premises, underscoring the crucial role of housekeeping in building and maintaining a hotel's brand reputation.
Operational Efficiency
Effective housekeeping operations contribute to a hotel's overall operational efficiency. Housekeepers maintain cleanliness and manage laundry, waste, and inventory, directly impacting operational costs. 
Efficient housekeeping practices, like scheduled cleaning, proactive maintenance, and smart inventory management, can reduce operational expenses while maintaining high standards.
Safety & Compliance
Hotel Housekeeping plays an instrumental role in upholding safety standards. Examples include handling cleaning chemicals safely, correctly disposing of waste, maintaining clear and unobstructed emergency exits, and meeting electrical and fire safety standards. 
Good housekeeping practices help hotels comply with health and safety regulations. This prevents potential legal issues and ensures the well-being of all guests and staff.
Best Practices in Hotel Housekeeping
To achieve excellence in housekeeping, adhering to certain key practices is essential. These ensure efficient operations and contribute to guest satisfaction, safety, and the hotel's overall success:
Conduct Regular Training
One of the critical components of effective housekeeping is regular and comprehensive training. Training programs equip the housekeeping staff with the necessary skills and knowledge about the latest cleaning techniques, use of equipment, safety procedures, and guest service standards. 
Refreshing these skills periodically ensures the team stays updated and delivers consistent quality service.
Use Checklists and SOPs
Checklists are an invaluable tool in housekeeping operations. They serve as a comprehensive guide for housekeeping staff and ensure all tasks, big or small, are accounted for. 
From daily room cleaning to periodical deep cleaning, maintenance tasks, and inventory checks, a well-structured checklist helps ensure consistency, completeness, and efficiency.
Use Appropriate Cleaning Supplies
Different areas in a hotel require different cleaning techniques and supplies. Using the appropriate cleaning supplies and tools ensures optimal cleanliness and prevents potential damage to hotel property. 
Properly storing, handling, and disposing of these cleaning supplies is also important to maintain safety and regulatory compliance.
Manage Inventory
Organisation is key in housekeeping. Effective inventory management involves maintaining sufficient stock levels, ensuring proper storage, and efficient distribution. This prevents shortages, reduces wastage, and ensures smooth operations.
Quality Checks
Quality checks are crucial for maintaining high housekeeping standards. Regular inspections and audits of cleaned rooms and public areas help identify any shortcomings or areas for improvement. 
These checks can also take the form of guest feedback surveys. Their input provides valuable insights into guest perceptions and expectations, contributing to continuous improvement in housekeeping services.
The Bedrock of Hotel Hospitality
The importance of housekeeping in the hotel sector cannot be overstated.
Its impact is felt through every hotel service and shapes the guest experience. The hotel maintains its reputation as clean and welcoming, and enjoys repeat business and financial success.
The hospitality industry evolves, but the invaluable role of housekeeping never changes. Their hard work communicates care, attention to detail, and professionalism - the true essence of the hospitality industry.