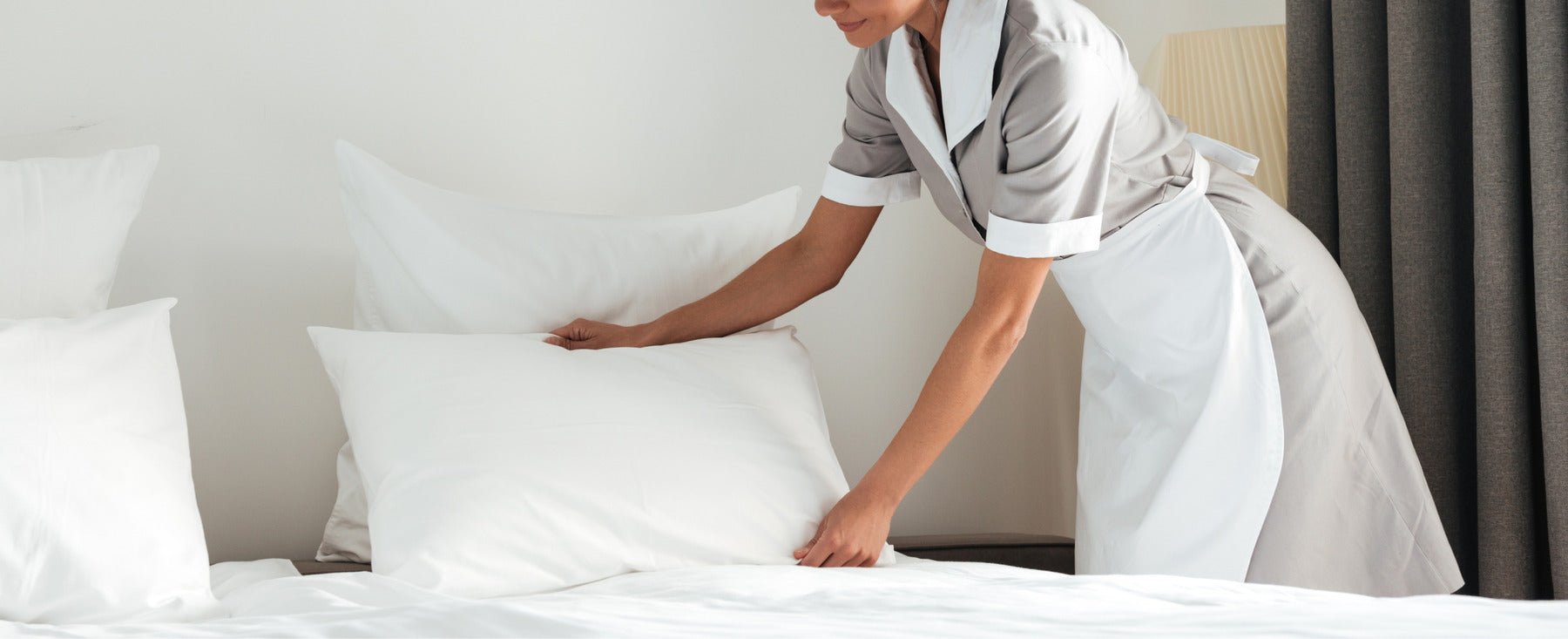 Hotel Housekeeping Resume: Comprehensive Examples for Recruiters and Job Seekers
Resumes are a crucial step towards employment.
For employers, a resume is how they form the first impressions of candidates. For those candidates, it's a chance to showcase their skills and achievements.
This article is a deep dive into what makes a good hotel housekeeping resume, with insights into what to include (for candidates) and what to look for (for employers). From key skills to references, we've provided a comprehensive breakdown of each section tailored for different experience levels. 
Whether you're an employer wondering how to spot the perfect employee, or a candidate looking to showcase their skills, all the information you need is here.
Profile Summary
For Employers:
A candidate's profile summary is a glimpse into their potential and capability. As an employer, you should direct your attention towards evaluating their experience, skills, and ambitions. The profile summary is a compact showcase of a candidate's value proposition to your hotel.
Here's what you should primarily look for:
Freshers: Look for academic achievements, internships, vocational training or certifications in hospitality. While they may lack experience, their eagerness to learn and grow in the field should shine through.
Experienced Individuals: Look for a summary of their years of experience in housekeeping and notable accomplishments. They should demonstrate mastery in hotel housekeeping operations and show evidence of their ability to maintain high standards.
Senior Roles: Seek evidence of leadership skills, experience managing teams, and instances where they have initiated and implemented policies or procedures that improved efficiency or guest satisfaction.
For Candidates
A profile summary is your opportunity to grab an employer's attention by outlining what makes you an ideal candidate. It should be succinct, powerful, and tailor-made for the job you're applying for.
Freshers: Highlight your academic background, internships or any relevant training you've undergone. Showcase your understanding of the housekeeping role and your enthusiasm to kick-start your career in this industry. 
Experienced Individuals: Outline your experience and key achievements in previous roles. Stress your skills in maintaining high standards of cleanliness. 
Senior Roles: Highlight your experience managing teams, creating training programs, and improving housekeeping operations. Illustrate with metrics where possible. 
Remember, your profile summary is a key element of your resume. Ensure it encapsulates your strongest selling points as an employee.
Key skills
For Employers
When assessing resumes, the key skills section can offer insights into a candidate's core competencies. It's crucial to identify these skills relative to the role's requirements and the candidate's experience level:
Freshers: Look for basic housekeeping skills like attention to detail, organisational skills, cleaning procedures and product knowledge. Soft skills like reliability, time management, and communication skills are valuable.
Experienced Individuals: Apart from refining the basic skills, they should demonstrate knowledge of advanced cleaning procedures, proficiency in using commercial cleaning equipment, and an understanding of safety protocols. Working well within a team and adaptability are desirable soft skills.
Senior Roles: Seek leadership skills like team management, the ability to train and mentor staff, and skills in developing and implementing housekeeping policies and procedures. They should also demonstrate problem-solving skills and the ability to handle operational challenges.
For Candidates
The key skills section is where you demonstrate your capabilities relevant to the role. Highlight your skills according to your experience level and relevance to the role:
Freshers: List skills like knowledge of cleaning procedures, proficiency in using basic cleaning tools, attention to detail, good physical stamina, and reliability. Include soft skills like good communication and time management.
Experienced Individuals: Include skills like proficiency in advanced cleaning procedures, knowledge of commercial cleaning equipment, understanding of sanitation regulations and safety protocols. Add soft skills like teamwork, adaptability, and customer service.
Senior Roles: Highlight skills like team leadership, ability to develop and implement housekeeping policies, and proficiency in resource management and budgeting. Include soft skills like problem-solving, decision-making, and conflict resolution.
Remember, your key skills should align with the job description and be authentic to your abilities.
Experience and job history
For Employers
The 'Experience and Job History' section is critical to a good resume. It provides insight into the candidate's previous roles, responsibilities, and accomplishments. Depending on their experience level, you should look for:
Freshers: Here, you'll likely find internships, voluntary work, or roles in related fields. Focus on understanding how these experiences might have prepared them for a housekeeping role, even if not directly related.
Experienced Individuals: Look for consistency in employment, progress in roles or responsibilities, and evidence of maintaining a high standard of cleanliness and organisation. Also, take note of any recognitions or awards they may have received.
Senior Roles: Look for leadership roles and successful team management. Check for evidence of implementing new procedures or training programs that improved efficiency or guest satisfaction.
For Candidates
This section is your opportunity to detail your previous roles, highlight your responsibilities, and showcase your accomplishments.
Freshers: If you don't have direct experience, include any internships, voluntary work, or transferrable skills from unrelated jobs.
Experienced Individuals: Highlight your responsibilities and achievements in your previous roles. 
Senior Roles: Detail your leadership roles, team management, and any successful initiatives you've led. 
Employers aren't just interested in what you've done, but how well you've done it. Whenever possible, quantify your achievements.
Education and training
For Employers
This section details a candidate's formal education and any additional training relevant to the job. Here's what you should consider:
Freshers: A high school education is often a minimum requirement. It's advantageous if a candidate has pursued further education in hospitality or has any relevant training or certifications.
Experienced Individuals: Alongside their educational qualifications, look for any professional courses or workshops attended that indicate their commitment to enhancing their skills.
Senior Roles: In addition to higher educational qualifications, look for specific training in leadership, team management, or specialised housekeeping areas.
For Candidates
The 'Education and Training' section is where you list your academic qualifications and any additional training relevant to the housekeeping role. 
Freshers: List your highest educational qualification, and highlight any hospitality or housekeeping courses you've taken.
Experienced Individuals: Besides your educational qualifications, include any professional development courses or workshops you've attended. 
Senior Roles: Highlight any leadership or management training you've undergone, as well as your highest education level. 
Remember, this section isn't just about formal degrees - it's a chance for you to showcase your commitment to continual learning and skill enhancement.
References
For Employers
This is where you can gain a third-party perspective about the candidate. References help you verify the information on the resume and get a more rounded picture of the candidate's capabilities. Depending on their experience level:
Freshers: References from teachers, internship supervisors, or volunteer coordinators provide insights into their reliability, commitment, and interpersonal skills.
Experienced Individuals: References from past employers are crucial to assess their work ethic, performance, and suitability for your hotel environment.
Senior Roles: Look for references that can vouch for their leadership abilities, decision-making skills, and contributions to past workplaces.
For Candidates
References strengthen your application by corroborating your abilities and work experience.
Freshers: If you've done internships or volunteer work, you could ask those supervisors for references. Alternatively, consider including a teacher or coach who can speak to your character and reliability. 
Experienced Individuals: Past employers, preferably from a housekeeping background, can vouch for your skills and experiences. 
Senior Roles: Include references from individuals who can attest to your leadership and management skills.
Ensure you contact your references in advance and get their permission before listing them. Make sure their contact information is current and accurate.
-----------------
Writing a resume can feel daunting. It's the first interaction a candidate has an employer, and getting it wrong can close the door on a potential career opportunity.
However, a good resume is invaluable. For candidates, it showcases their best skills and highlights their achievements. For employers, it's a roadmap for finding the right person for the job.
Remember, a well-crafted resume is your first step towards a successful career in hotel housekeeping.
-----------------
FAQ
What format should I use for my housekeeping resume? 
A reverse chronological format is typically most effective, starting with your most recent job at the top. If you're a fresher, you might use a functional format emphasising your skills rather than work experience.
What if I don't have any housekeeping experience? 
Focus on transferable skills such as attention to detail and organisational skills. Any courses or certifications related to hospitality or housekeeping should also be highlighted.
Should I list all my previous jobs?
Only list jobs that are relevant or show transferable skills. For experienced individuals, prioritise housekeeping roles. For senior roles, emphasise leadership experience.
How can I make my housekeeping resume stand out?
Use quantifiable achievements whenever possible. Rather than saying 'responsible for cleaning rooms,' say 'responsible for maintaining cleanliness in 30+ rooms daily.' Tailor your resume to the job description.
What kind of references should I include in my resume? 
For freshers, consider academic or internship references. For experienced individuals, past employers are best. Senior roles should include references who can attest to their leadership skills.
How do I show my passion for the hospitality industry?
You can show this through any additional training or courses you have pursued. You can also mention this in the 'Profile Summary' section and discuss how you have gone above and beyond in your roles.
How important is it to include soft skills in my resume? 
Very important. The housekeeping role requires interaction with others, working in teams, and dealing with challenges. Skills like communication, teamwork, and problem-solving are highly valued.
Can I include part-time or temporary housekeeping roles in my resume? 
Absolutely. Any relevant experience, whether part-time, temporary, or voluntary, can demonstrate your skills and dedication to the field.